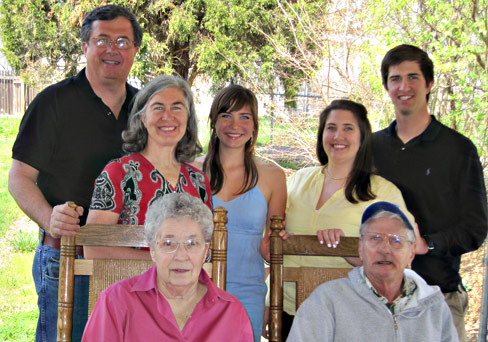 Meet Marcia Rowlett Jasperse

Marcia holding Rick's prop after
he spoke at the Pickens STAR Banquet




Marcia was born in Florida, and her family moved to Georgia when she was four. They lived in Clayton, DeKalb, and Savannah/Chatham counties where her father, Robert Lee Rowlett ("Bob") was an Assistant Principal, Principal, and Assistant Superintendent of Schools.

Marcia graduated from North Clayton High School and worked her way through college, attending Gordon Jr. College and graduating with honors from the University of Georgia in Early Childhood Education.

Marcia started teaching kindergarten in Glynn County and lived on "Marcia's Beach." Rick must have been pretty special for her to marry him and move from the coast to Cochran, Georgia. She taught kindergarten and fourth grade there. She continued teaching, reading and first grade, after Rick and Marcia moved to Jasper for Rick to take his lead County Agent position. They had found their home.

They bought land and a small farmhouse, the perfect place to raise children, Elizabeth, Mary Alice, and Bob. Marcia stayed at home after Mary Alice arrived, later teaching Pre-K at Pickens Head Start/ Pre-K. She kept her teaching certificate current by taking classes, stayed involved in school activities and in school policy. She was appointed by Congressman Nathan Deal to State School Superintendent Schrenko's Advisory Committee and served on the team that revised the State's Quality Core Curriculum.

The "Children":
Elizabeth graduated with an English degree from Mercer University and received her Master's from the University of Georgia in English Education. She is married to Justin Wright (Mercer grad), and they live in Centerville, near Warner Robins, where she teaches high school English, and he is Pastor at Centerville Community Church.

Mary Alice attended law school after graduating with a degree in Environmental Economics from the University of Georgia. She is married to Ross Tumlin Christopher (Mercer Med grad), and they live in Atlanta; where she is an attorney, and he is in radiology residency at Emory.

Bob graduated with an Accounting degree from the University of Georgia in Accounting and received his Master's at Kennesaw State in Accounting. He lives in Atlanta and is an auditor with an accounting firm.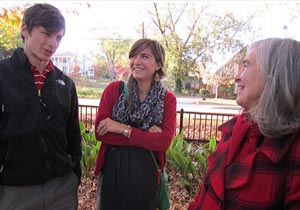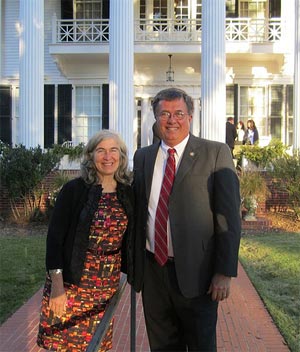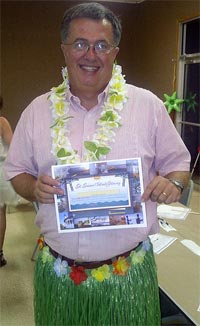 Hello, I'm Rick Jasperse, candidate for the Georgia House of Representatives District 11.

Thanks for taking the time to get to know me today.

To really know someone you need to know a little about his background. I started my raising in independent East Tennessee, an area that is full of conservative, hard-working folks just like here. They don't really want a lot from Government, just freedom.

My grandparents lived off the land as most farmers did at the time, fishing, farming, and hunting. As my Grandfather Woodby worked hard to support his family, World War II and the pipefitting trade lifted his family out of poverty. He was very proud to have worked at the Oak Ridge atomic bomb plant.

My Dad's father was a Dutch immigrant escaping poverty from Europe. He stood by the Statue of Liberty and later told me The American Dream of freedom and independence was what he worked for; 26 jobs later, he retired to a small farm on Powers Ferry Road in Marietta. He knew what most immigrants knew; with hard work and determination you could make yourself a success.

My dad didn't like high school, so he worked at Dunaway's drug store in Marietta. One day, a newly-hired young pharmacist drove up in a brand new Buick. My dad had one of those life-changing moments, "I want more." With a little prodding, the pharmacist told my dad if he went into the military, he could take advantage of the G.I. Bill! The pharmacist promised that he would do whatever it took to get him into the University of Georgia's Pharmacy School when Dad got out of the service. My dad joined the Marines and in his words, "did my duty." The young pharmacist came through on his promise. My dad became a pharmacist. Education was the key to changing a life and a family's future.

My mother has always been an inspiration to me. She helped her mom care for a large family and got a public job early in life. Mom taught us to work hard and be proud of our efforts. Due to her influence and encouragement, I became one of the first in her family to graduate from college, and the first with a Master's degree. Thanks, Mom.

Marcia, my wife of 35+ years, is from a family of educators. Her dad, too, used the G.I. Bill after serving in the Navy during WWII to live his American Dream: teaching and then becoming a high school principal in Georgia.

Marcia and I met at the University of Georgia on a Thursday afternoon while we were studying at the Main Library. We were the only two people in there at the time (REALLY). Two days later she asked me out on our first date. That's The Real American Dream.

Upon graduation from The University of Georgia's College of Agriculture, I started work as the Assistant County Agent in Bartow County in 1980. I stayed there for a few years. Marcia and I got married and then went to Bleckley County in South Georgia to further my experience in agriculture. Pickens County was our next stop and has been our home for 30+ years. We live on a small farm, and over the years have grown a little bit of everything.

I have been very active in our community over the years. I have served on various boards and clubs. I have been on the Mountain Conservation Trust Board, Chattahoochee Technical College, and Appalachian Cattlemen's Association's Board. I am a past member of the Jasper Lion's Club and was President of our Pickens High School Tip-Off Club. I try hard to make it to my Rotary Club every Wednesday and am a member of the Pickens County GOP. I have cooked pork and chicken BBQ for many organizations and events to raise money for charity. I coached little league baseball for years with some great parents. We went to the Dizzy Dean World Series twice.

My relationship with God has always been an important part of my life. Christian principles are an important part of my everyday approach to life and to making decisions. It is the basis of my enthusiasm to display a servant-leadership approach to public office just like I have in work, family, and in community activities.

I retired in 2010 after 29 years as a County Agent. Budget reductions at the University put a few of us older employees out to pasture to keep our younger agents working. As an educator with the University of Georgia College of Agriculture and Pickens County, my role was to teach, inform, and empower folks. One of my job's most rewarding roles was to help people make and save money. When a farmer called about eliminating weeds in their pasture, I helped them choose the most economical way to improve their hay quality and yield. When I could help a homeowner establish a turf or help golf course personnel diagnose a turf grass disease, he or she could treat the problem the first time, thereby saving money and time. We assisted in decision-making on new Ag enterprises. When a homeowner or business has a problem with fungus, weed, or insect we haven't seen before, we were trained to use state-of-the-art technology and research from UGA to identify and recommend cost-effective solutions. Agriculture and the adults and youth who dedicate their lives to this way of life have made my career a special one.

I have worked closely with many volunteers and co-workers over the years. We started our local farmer's market, we have written and received grants, and we have raised over $100,000 for college scholarships for youth. We developed a lamb/livestock program, Cattlemen's Association and Master Gardener program. We have helped hundreds of 4-H youth learn individual responsibility and citizenship by guiding them through project work and community service.

Through these real life experiences, I have developed a personal appreciation and understanding of the challenges our community faces. I have spent my life being your public servant and know that caring, respect, and calling folks back will make a difference. Working hard to find the answer to your questions is second nature to me.

In 2010 I had the Honor to be elected to the Ga House of Representatives, having the opportunity to sit in the seat of our now Congressman Tom Graves. As a Representative for the 12th District in the State House of Representatives, I learned fast I didn't have all the answers, but I have always been a good listener. I enjoy doing the research, asking questions, and doing the best I can to make the right decision for the people of this district. I've never been afraid to ask the hard questions or take on a job that seemed impossible. We need honest folks in Atlanta who don't go with political agendas other than representing their folks who sent them there.

In 2011 the district lines were redrawn following the 2010 census, and now I am in the 11th. The areas I represent have changed some, and I have worked hard to be an effective Legislator for the 11th district, listening, learning, and acting. I think you will find my experience as a county agent invaluable to you in constituent services. I know how to find information. I have worked hard to keep government out of your life and as small as we can make it. I look for ward to your call with ideas on how we can work together to do this.

Mark Twain once said, "Loyalty to the country always. Loyalty to the government when it deserves it." It is MY goal to work to give us a government worthy of your support.

I want to leave you with a quote I learned a long time ago: "Res Verba non": "Deeds, not words."

During the next few months we will listen to a lot of words, get a bunch of mail, and be overwhelmed by signs. Take time to look at deeds, not words, when you evaluate a candidate. Google them and ask them the hard

Thank you, Rick