Volunteer
Thanks for joining with us in the campaign to win the 11th District House Seat. In my years working as County Agent, I have seen the immense impact volunteers can make. Please let us know how you want to help:
Contribute
Choose an option below:

Please mail contributions to:

Citizens for Rick Jasperse
89 Apple Valley Farm Lane
Jasper GA 30143

Phone: (770) 893-2039

Email: Rick@RickJasperse.org
---
Thank you for contributing
to our campaign.
I hope you know I'm pretty tight with a dollar, too; and I will use your contribution to its fullest.

All money raised will be spent on yard signs, advertising, and other campaign materials and expenses. You can use the Contribution Form below to mail your check to us, or you can securely donate online using PayPal (Visa, MC, AmEx, Discover).

State law allows contributions up to $3000 per person, business, or corporation per election to state and local candidates.

Contributions or gifts to Citizens for Rick Jasperse are not deductible for Federal income tax purposes. By contributing to the Rick Jasperse for State Representative campaign, you certify that you are a U.S. citizen and over 18 years of age.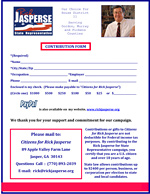 Your Check or Money Order is greatly needed and appreciated

Click here to download
our PDF Mail in Form